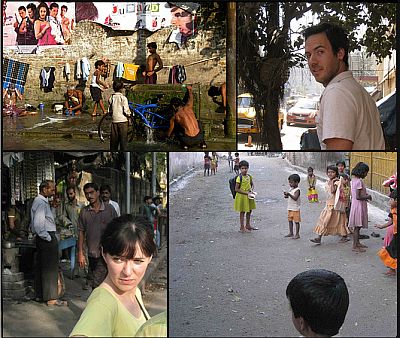 Young Scientology Volunteer Ministers in India use Volunteer Minister website to download emergency information
Young Scientology Volunteer Ministers, Nick and Erin, spent several weeks in India this year to help teach kids in the slums of Kolkata. Living right in the heart of the city, Erin came down with a bad stomach bug. Even though it is very common for those traveling in India to get sick, illnesses like this can be severe and Erin was suffering from acute dehydration.
"She couldn't keep down any food," said Nick. "We called a doctor first and he gave her the medicine she needed but it wasn't kicking in. So I knew I had to give her a Scientology Assist."
Scientology Assists are techniques, developed by L. Ron Hubbard, that give people relief when they are suffering from an illness or injury. Done in conjunction with medical treatment, assists can greatly speed healing and recovery time.
"I couldn't remember how to do one particular Assist, but fortunately we had Internet access," said Nick. "India's bizarre like that, we had no hot water but we had Internet access!" said Erin.
"So I went onto the Scientology Volunteer Ministers web site," continued Nick, "found the booklet called 'Assists for Illnesses and Injuries', and I downloaded it—straight to the desktop on my laptop! I opened it and started the Assist. Erin's fever dropped, and she stopped throwing up. I did the Assist two more times in the early morning and the next day she was recovering. I had actually forgotten that these booklets were available online, and was cursing myself for not having my own copy with me. Then I remembered the new website!" he said.
The Scientology Volunteer Minister site provides tools for improving conditions. Free courses are also available through the site so you can learn to apply the information to your own life and those around you.
These free Scientology courses provide help with such things as marriage problems, trouble with relationships, raising children, difficulties on the job and overcoming stress, anxiety and depression. These are self-guided courses, meaning people move through them at their own pace. Each course includes practical exercises where students get hands-on experience in applying the data. The courses are supervised by trained extension course supervisors who ensure the students can use the material and provide feedback, guidance and help where needed.
The hallmark of the Scientology Volunteer Minister, as described by Scientology leader, David Miscavige, is his or her "indiscriminate acts of kindness and compassion." To contact a Scientology Volunteer Minister visit the web site at http://www.volunteerministers.org/#/contact.